I work in the UK Swift Science Data Centre, based in the Department of Physics and Astronomy at the University of Leicester.
My research areas are novae and Gamma-Ray Bursts, although I started off in the field of Active Galactic Nuclei. I completed my PhD in 2003, also at Leicester,
the title of my thesis being XMM-Newton observations of Type-1 Active Galactic Nuclei.
Contact Details
Department of Physics & Astronomy
University of Leicester
University Road
Leicester
LE1 7RH
UK
Tel: +44 (0)116 223 1706
Fax: +44 (0)116 252 3311
E-mail: klp5@le.ac.uk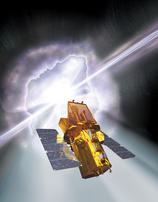 Swift: picture courtesy of Spectrum Astro